Internet Topics
---
Symbols & Fonts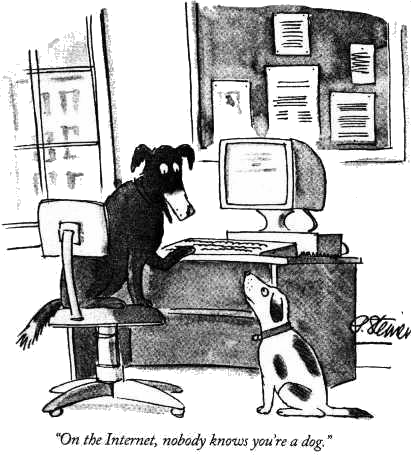 Bandwidth & Broadband ... - (Internet connection speed)
DNS = Domain Name System ...
e-books ...
IoT = Internet of Things
IP Addresses ... (IPv4, IPv6)
ISPs & ESPs ... (Internet Service Providers & E-mail Service Providers)
.NET - Internetnews.com - Webopedia.com - What is .Net??
Programming (for the Web) ... (HTML, Java, JavaScript, CSS, CGI, etc ...)
RSS = Really Simple Syndication or= Rich Site Summary or= RDF Site Summary.

RNSoft - RSS Feeds Generated Right from Dreamweaver

Examples

Comments

having everything essentially boiled down to headlines and text just bored me to tears
RSS feeds are indiscriminate; every new item is included
Adding ANOTHER piece of software that sends me stuff I have to spend time to review and filter out is not a good thing.
Concern that opening a feed from a site to my desktop will begin yet another deluge of unwanted ads, spam and garbage.
Concern that if I relegate my experience to a stream that is determined by others, I may miss out on the stories and ideas that make the Internet truly valuable
I understand WHAT it is, but don't know how to IMPLEMENT RSS. I see the ubiquitous orange RSS thingy, but if you click on it, as most people I know who ask me about RSS do, they get a screen full of HTML krapola. This is a real turnoff as there is NO accompanying explanation of what to DO with it.
Asking users to configure an RSS reader--no matter how simple that might be--is too much
Concern that RSS would be another channel through which he could receive viruses, spyware, and other infections

Security (& Virus Info) ...
Speed = Bandwidth & Broadband ... - (Internet connection speed)

Web 2.0

What is included in Web 2.0

mashups

Wikis

Podcasting

social voting

social bookmarking

So how does Enterprise 2.0 differ from Web 2.0?

Simply based on the context and environment in which these tools are used, Frappaolo (AIIM) says.

"It's Web 2.0 if [they] aren't used to create content proprietary to the enterprise."

Web Programming ... (Editors, HTML, Java, JavaScript, CSS, CGI, etc ...)
WiFi ...
General Internet Topics
Deep Web
FAX
FindTutorials - Learn anything
Forwarding
GoArticles.com - Article Search Engine Directory

InformationWeek - CPM

The World Wide Web: Past, Present, And Future

Internet.com's network of more than 100 Websites are organized into 14
~~~~~~~~~~~~~~~~~~~~~~~~~~~~~~~~~~~~~~~~~~~~~~~~~~~~~~~~~~~~~~~~~
Netiquette
Online Favourites - lets you build your own personal online guide to the web and access it from wherever you are.
Surveys & Research & Polls (= poll questionnaire survey )
ZDTV
Internet Instruction &
Instruction on the Internet
Online Courses
---

Skillshare | Online Classes by Skillshare | Start for Free Today
Dummies (formerly For Dummies), wikiHow, Idiot's Guides, eHow, Wikipedia, about.com, Kaplan, Khan Academy, YouTube, O'Reilly, Lynda.com, udemy
Tech Pro Research - TechRepublic

7 day Free Trial. Browse and read from the entire library of original IT research, expert analysis, ebooks and policies. - $300

OpenCourseWare
Adobe.com - Online training courses endorsed by Adobe .com

Lynda.com
Total Training
Element K
Atomic Learning

ACM— Association for Computing Machinery - US$200/yr

ACM, the world's largest educational and scientific computing society, delivers resources that advance computing as a science and a profession. ACM provides the computing field's premier Digital Library and serves its members and the computing profession with leading-edge publications, conferences, and career resources.

ChasM's Helpdesk - Internet Coaching - Recommended by Sympatico.ca - $30/yr
click2learn.com (author your own CBT)
Coursera = a MOOC (Massive Open Online Course) - $0
CRIM Formation (Centre de recherche informatique de Montreal) (Anglophones not welcome.)
Dawson College
ExamNotes.net Free help with CCNA, MCSD, MCSE, A+, NETWORK+, Cisco certifications, Free practice exams.
Filename.com WEB-BASED TRAINING INFORMATION CENTER: WBT, Online Learning, Distance Education - (Recommended by TechTV)
Free-Ed.Net - Free education on the Internet
freeMCSE.com (requires MSIE; NN will not work)
Freeskills - This is the place to go if you're looking for a technical education. For $99 you can have access to over 300 IT training courses per year. Take advantage of the free tutorials to get a jump-start on your training. (Recommended by TechTV)
The Great Courses .com
HP = Hewlett-Packard
IBM
Individual Software – Award-Winning Personal Productivity and Computer Training Software

IndividualSoftware.com | ProfessorTeaches.com
ProfessorTeaches.com - Professor Teaches - Interactive Computer Training

Langevin Learning Services - $$$
LinkedIn Learning | eLearning and Skill Development for Organizations | LinkedIn Learning (using Lynda.com) - Requires LinkedIn Premium $$$$!!

LinkedIn Premium | CA$26/month, CA$50/month, CA$70/month, CA$100/month - (It is not surprising that LinkedIn hides its prices very well.)

Macromedia University :Courses - US$99/70 courses
Microsoft
Mindflash | Internet Guides, Tutorials, and Online Training Information | Mindflash - Thanks to Sarah Washington (Library Assistant, Jericho, VT) for this recommendation.
MindLeaders: e-Learning that works. (www.dpec.com)
Profsr.com tutorials on computer programming and Web applications, database modeling, SQL, Powerbuilder, Visual Basic and on design and set-up of a Web site
Prometheon: Courses: Seminars, Continuing Education and Online Learning. www.seminarfinder.com
QuicKnowledge.com - $99/year unlimited courses
Skill Success | Course Directory

Labor Day $10 Course Sale. Get as many courses as you'd like for only $10 each.
Use a Coupon Code (e.g. LDW or WKD10) (You can use the coupon for multiple courses)


TED - Technology, Entertainment, Design - online ideas
Unitek Information Systems | Vocational Schools For Cisco Training, Microsoft Training, NetApp Training, Health Care Training and Solar Training- Unitek Information Systems
Website Builders | formerly LearnTheNet.com
Wiredguide - A beginner's guide to computer and internet help.
Internet Tools/Resources