Food & Drink Topics
---
Chocolate
Coffee
Fish - Seafood
Malasadas

Please let me know if you find a place like Leonard's in Waikiki.

Mexican
Noise
Nutrients
Restaurants
ReviewLab | Ultimate Cooking Resource Guide | ReviewLab - Thanks to Tabitha Frankel for recommending this site.
Water

Reverse Osmosis
bottled water
Distilled - 4L $4.93
Cascade Water Corp – Mount Pleasant - 3445 Main St (@18th), Vancouver, BC V5V 3M9 - M-F.10h-19h, SS.12h-17h - (604) 877-0061
Save-On-Foods / Urban Fare - 11.35L
Walmart
Canadian Tire
Costco - V6B 1V4 - 9h-20h,SS.9h-17h

In-store u-fill station

self-service

Pre-filled exchange
---
Have a drink: "Never drink alcohol unless you are celebrating something, upset on something, or if it's a day that ends with the letter Y. And never drink when you're driving." - Helen Mirren
After tasting the wine, Macha summons the waiter: "Elvis. Come here. If I wanted vinegar, I would have ordered french fries. Get me something with a price tag on it. Okay?" - Ray Liotta (as Macha) in the movie Revolver, 2005.
BAC Calculator - Blood alcohol content, or BAC, is an important number that helps determine the level of alcohol in a person's bloodstream. - | - Thanks to Sarah Witmer for recommending this site.
Shopping
Accessories
Aroma Wheel
Aurelia Filion - BuSurLeWeb.com is no longer an active address.

I love her. Impossible not to love a woman who is this passionate about wine.
but... Can she dance?

Cicerone
Costco
Everything Wine | Buy Wine Online | BC's largest wine stores | Everything Wine

Everything Wine - Store Locator
8570 River District Crossing, V5S 0C2 Vancouver - 604-416-1672
998 Marine Drive, V7P 3C4 North Vancouver 604-929-7277

Hotels, Restaurants, Institutions - La Revue HRI - la référence des professionnels du secteur de l'hôtellerie, de la restauration et des institutions (QC)
Imbibe Magazine - The Ultimate Drinks Magazine, Exploring Wine, Spirits, Beer, Coffee, Tea and Every Beverage In Between - Imbibe Magazine
Margarita

4oz fresh lime juice

3oz silver Tequila

–

Cuervo

(Patrón)

1oz Cointreau

1 tablespoon sugar

Nat Decants - Favorite Wine and Food Books - Natalie MacLean
New Zealand Wine
Opimian | Best Wine Club in Canada - Available in All Provinces - formerly opim.ca
Orange wine = skin-contact wine = skin-fermented white wine = amber wine

Based on white grapes but made like reds, with skins and sometimes stems left in contact with the juice during fermentation and aging. Sometimes cloudy appearance and offbeat flavours. No additives. Not filtered. Can be made with almost any white grape(s) (Vidal, Pinot Gris, Chardonnay, Riesing, Sauvignon Blanc, Viognier, etc.).
Examples:

QC = Province of Québec, Canada
Robert Parker Wine Advocate - (formerly eRobertParker.com)
Sake

Sake World

June 2019 – Sake World - The Milling Wars Are Officially Over!

Rice is milled to remove fat and protein, and that the more this is done, the cleaner and more refined the final sake can be. The more one mills before brewing the more elegant and refined the resulting sake will be. Elegance and refinement are collectively only one figure of merit in sake. There are many others. Breadth. Depth. Richness. Intensity. Resonance. Weight. They are all valid, loveable aspects of sake, and more milling means less of these.
July 2019 - Milling: Less Can Be More - Breadth. Depth. Reverb. Resonance. Umami. Richness. Weight. Intensity. Also, beyond the question of milling, there are a multitude of things to consider in a given
Yeast starter preparation sake. For example, what rice was used? What grade of that rice and from what region? What year was it brewed, how was it stored, what about pasteurization or the lack thereof? What methods of brewing were used? And of course there are so many more. To only base preferences and decisions on the seimai-buai number is to basically ignore so much pertinent information.

Scotch
Spain
Sutton Place Wine Merchant at The Sutton Place Hotel, Vancouver BC

855 Burrard Street, Vancouver, BC V6Z 2K6 - 604.642.2947 - winemerchant@suttonplace.com
Norman Wood - Supervisor - NWood@suttonplace.com - 604-642-2745
Peter Harlos - Supervisor - PHarlos@suttonplace.com - 604-642-2745 - cell.778-389-5618
Casa Lapostolle, Cuvée Alexandra

winecurrent.com - newsletter - LCBO Vintages
Vintage Assessments.com - Michael Vaughn
Wine Library TV: Gary Vaynerchuk's daily wine video blog

... and occasionally he also talks about wine. This site is not for everybody. Unusual!

Wooden Wine Storage Rack - Be sure to store wine bottles properly on a wine rack or in a wine cellar.
---
Vinegar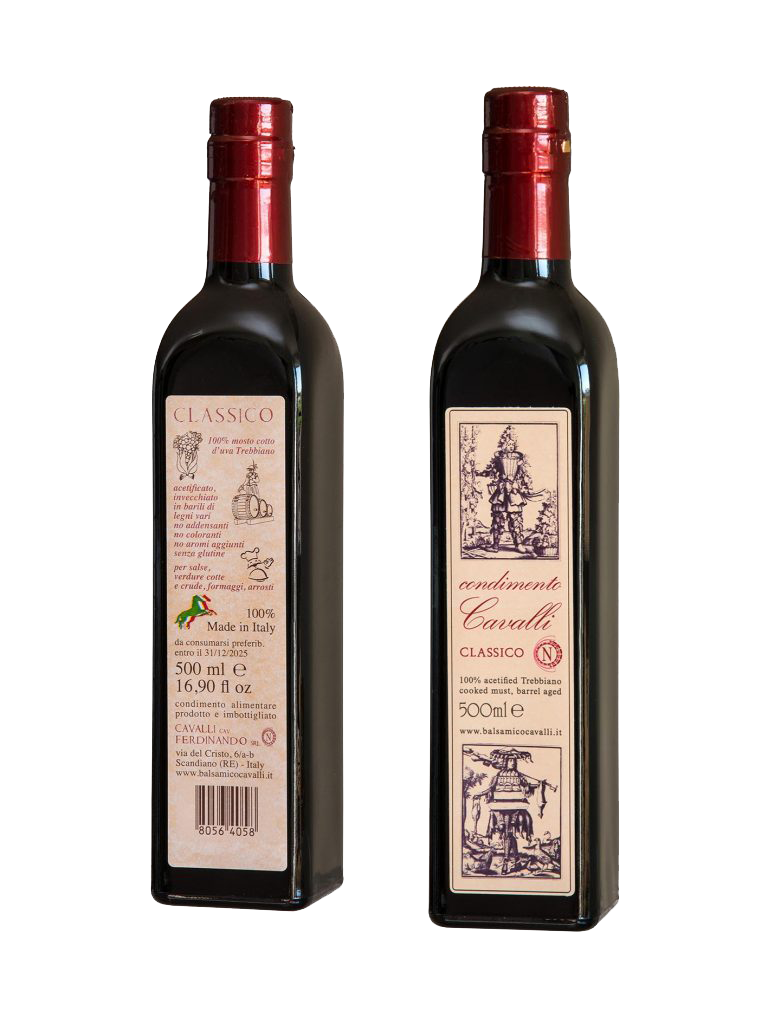 16.90oz=500ml
Cavalli Cav. Ferdinando

Cavalli products - Cavalli cav. Ferdinando

Cavalli balsamic seasoning (vinegar) - (black seal, red seal, gold seal) - 250/500ml

16.90oz=500ml, black seal, $25/bottle $300/case

Map - Scaniano, RE (Reggio Emila)

Finica Food Specialties - (905) 696-2770 - (905) 696-2776 - M-R.8h-16h30, F.8h-16h ET

65 Superior Blvd, Unit #1, Mississauga, Ontario, L5T 2X9
Canadian importer of Cavalli Balsamic vinegar.
geninfo@finica.on.ca
Contact

Andy - Sales Manager - 416-305-1425
Paul Blake - President - pblake@finica.on.ca
Shelley Myers - Administrative - Assistant to the President & Client Relations - geninfo@finica.on.ca
Guy Campeau, Key accounts executive - Cell: 514-898-9795 - gcampeau@finica.on.ca
Kathleen Swirla - Key Account Manager at Finica Foods Specialties Ltd. - 647-328-0829 - kswirla@finica.on.ca

Distributors: Lekker, World Wide Foods, GFS, Sysco

Vini Nobili (d'Italia) Imports - 93 Dupont St., Toronto ON, M5R 1V4 - Canadian Importer for Cavalli - 416-482-7878 416-961-0018

Has Vini Nobile closed? According to the phone message, "nobody is available now" (even in the middle of a weekday).
Brunello Imports - 449 Fenmar Dr, North York, ON M9L 2R6 - (416) 631-9773 - brunelloimports.com - Permanently closed.

Head Office - 120-13100 Mitchell Road, Richmond, BC, Canada V6V 1M8 - 604-324-1551 888-894-6464 - info@elcofinefoods.com

2020 - No longer distributing Cavalli
see NMA Sales?

Elco Fine Foods Inc. - 40 West Beaver Creek Rd - Richmond Hill, ON
Elco Fine Foods Inc. - 2724 boul. Daniel-Johnson, Chomedey QC, H7P 5Z7 - 514-330-6538 877-700-3526 (Lorraine)
Now part of Finica?
---
Cépage = Grape variety = grape varietal (ang)
Assemblage = Blend (ang)

La plupart des vins de la région bordelaise, contrairement à la plupart des autres régions viticoles (en France), sont le résultat d'assemblages de vins issus de cépages différents. (exception: Rhône = cépages GSM = Grenache + Syrah + Mourvèdre + 20 autres) - See also: Meritage


Food & Wine Pairings:

Accords mets et vins = Alliances mets et vins =Pairing (ang)
Asparagus ruins most wines

Avoid fruit-driven wines | Avoid tannins | Avoid oak
Look for wines that somehow echo the chlorophyll, grassy, slightly cheesy essence
Whites are a much better match for asparagus.

Sauvignon Blanc - Sancerre or Touraine - not New World (too much cat pee and grass)
Sparkling wine (Champagne, Cava, Prosecco). Not Pinot Noir based, but a Blanc de Blancs. But not Chenin Blanc either - too much fruit. - mostly Chardonnay
Grüner Veltliner ?? | Sémillon | Sémillon & Sauvignon Blanc | Reisling | Pinot Grigio | Pinot Gris | Riesling | Gewürztraminer | unoaked Chardonnay | very dry Tokaji ?? | dry Alsatian Muscat ??

Reds

Pinot Noir with mild tannins and very little oakiness - using the grill or the broiler for the asparagus

Wheat beer
Natalie MacLean - Wine and Food matching tips

Sauvignon Blanc | Albariño | Pinot Noir | Cabernet Franc | Chinon | Sancerre

Port (ang) = Porto (fr,po)

bread, grapes, chocolate, almonds, Hazelnuts
edel de cleron, faisan avec porto d'érable, chevreuil madère, fourme d'ambert au lait cru, parmigiano reggiano 28 mois, manchego

Porto (fr,po) = Port (ang)

More than 80 different grape varieties are authorized for Port production. The most widely used - and most highly regarded - grapes: Touriga Nacional, Touriga Francesa, Tinta Roriz (another name for Tempranillo), Tinta Barroca and Tinta Cão.
"LBV" stands for "Late-Bottled Vintage." By law, LBV Ports are bottled within four to six years from the vintage date. This means they spend about twice as long in wood as vintage Ports, and so are usually more accessible at an early age. Some producers cold stabilize and filter their LBVs. This is supposed to eliminate the need to decant the Port, but it can strip away the flavours. If you're looking for LBVs made more like vintage Ports, look for the word "Traditional" on the label.
Many older bottles of Vintage Port have what appear to be streaks of white paint on them. This white mark is also called a splash mark, and it tells you which way the bottles were cellared (splash mark up). This way, all the sediment collects on the same side. (Wine Spectator)
Pronunciation

Francophones have a lot of trouble pronouncing the word "Tawny". Québécois want to pronounce it "town-ie" However, Tawny is not spelled "Towney".
Tawny should be pronounced like the word "dawn", not like "down".
Francophones have a lot of trouble pronouncing the word "Dawson" (As in Dawson College). Québécois want to pronounce it "Dow-son" (where 'dow' is pronounced the same as 'cow').
It is not spelled "Douse-On" or "Dowse-On".
Dawson should be pronounced like the word "dawn", not like "down".

Pouilly Fumé

Pouilly-Fumé is a dry white wine from the Loire Valley wine-producing region of France and is made from the Sauvignon Blanc grape variety. It is characterized by smoky flavors and minerality. The vineyards are located in Pouilly sur Loire, Saint Andelain, Boisgibault, Tracy sur Loire (Nièvre).
Pouilly-Fuissé is an appellation of Burgundy wine in central France. It is the best-known part of the Mâconnais region, and produces white wine from the Chardonnay grape.
This white Burgundy should not be confused with the Sauvignon Blancs from Pouilly-Fumé and Pouilly-sur-Loire in the Loire Valley.
Fumé Blanc - The first cuttings of Sauvignon blanc were brought to California by Charles Wetmore, founder of Cresta Blanca winery, in the 1880s. These cuttings came from the Sauternes vineyards of Chateau d'Yquem. Eventually, the wine acquired the alias of "Fumé Blanc" in California by promotion of Robert Mondavi. In California wine produced from the Sauvignon blanc grape is also known as Fumé blanc. Both oaked and unoaked Sauvignon blanc wines have been marketed under the name Fumé blanc.

Meritage = Bordeaux-style wine that isn't from Bordeaux, FR = Vin de style bordelais, mais qui n'est pas d'origine française = e.g. California Meritage (Opus One, Phelps Insignia, Dominus, etc.)

Meritage (jamais Méritage)
Meritage = Cabernet Sauvignon + Cabernet Franc + Merlot + Petit Verdot + Malbec + Carmenère + Gros Verdot + St.Macare
Bordeaux = Cabernet Sauvignon + Cabernet Franc + Merlot + Petit Verdot + Malbec + (Carmenère?) = un assemblage d'au moins un de ces cinq cépages

Pinotage = a clone of (Pinot Noir + Hermitage)

Pinotage = un cépage (conçu d'un clône du Pinot Noir + Hermitage) = un cépage développé en Afrique du Sud
Cinsault/Cinsaut = Hermitage (France méridionale) = Hermitage (Afrique du Sud ) = vin du Rhône à base du cépage Syrah = cépage principal des vins de Châteauneuf-du-Pape = Cinq-saou = Black Malvoisie (CA) = Boudales = Plant d'Arles = Picardin noir = Morterille noire = Cuviller = (Black Prince = Blue Imperial = Oeillade = Ullade = Cividino)